Mustang Valley Farm

is twenty six secluded acres of green pastures, lush woods and a meandering creek nestled in a beautiful rolling valley. Close to everything you need but far from the hustle and bustle. "Peaceful" is the word most people use to describe it.

The Facilities

Safety is the number one priority at Mustang Valley. Our pastures are seeded with a high quality Horse Pasture mix and enclosed with Flex-Fence, Centaur HTP and Pro-Tek horse fencing. We also have plenty of three sided shelters for protection from inclement weather and the sun on those hot summer days.

Our Hay

We bale our own hay at Mustang Valley Farm and also have a few select suppliers. We use a mix of alfalfa, timothy and orchard grass. The horses love it and so do the deer! It's not unusual to have a herd of a dozen or more deer standing in the hay field. We DO NOT allow any hunting of any kind, ever, on the property. Also, there are strict rules against four wheelers, dirt bikes, or anything else of the like so a lot of the local wildlife have made our farm their home. Mustang Valley is a safe and peaceful place and we are determined to keep it that way.
The Round Pen

Our round pen is six feet tall with sand footing. Perfect for training and exercising. Use of the round pen is free to boarders and available hourly to visitors by appointment.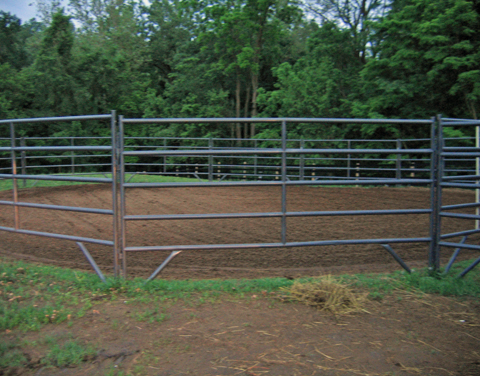 The Barn


Our brand new metal sided post and beam barn has plenty of ventilation, tack lockers for boarders and is safe and secure. The five 12 x 12 stalls are roomy, safe and comfortable. Take a look at the barn under construction.