Hi! Welcome to the online home of Mustang Valley Farm. We are Doug, Diann, Evan (12-6-04 to 5-26-10) and Ryleigh Rausch and Mustang Valley Farm is our 26 acre horse boarding facility located in Mechanicsburg, Ohio. We offer full, partial and pasture horse boarding along with other services. We will have riding trails on our property soon. Until then, our secluded quiet location offers room to ride.

The farm is located in central Ohio just west of Columbus and east of Dayton in Champaign County. We are just west of the village limits of Mechanicsburg on Maple Grove Rd.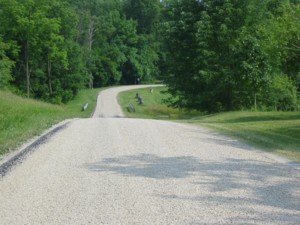 Look for the big tan barn with the red roof.
We bought the farm in 2003. Back then, it was just corn fields, a woods and a creek. We've been working hard, turning the place into a nice boarding and trail riding facility. The new barn went up in 2006. There are five horse stalls, a barn office, tack lockers and a feed area and an equipment garage. It's coming around and taking shape. Very exciting!
Please take a few moments to explore our website. Check out our horses, the property and don't miss our son's section. He's a very special little man! You'll see why when you explore his pages!
One of the newest members of the Rausch family is Jake. He's a Long Haired German Shepherd/Chocolate Lab mix. We brought him home on March 17, 2007 at 5 weeks old. Watch him grow here.