Hi! Welcome to the online home of Mustang Valley Farm, LLC. We are Doug and Diann Rausch and Mustang Valley Farm is our 26 acre horse boarding facility located in Mechanicsburg, Ohio. The farm is located in central Ohio west of Columbus and east of Dayton in Champaign County. We are about a quarter of a mile west of the village limits off of State Route 4 on Maple Grove Rd. Look for the black fences and tan barn with the red roof.
Distance to Mustang Valley Farm, LLC from...
Marysville: 18 miles
Dublin: 27 miles
Columbus: 35 miles
Hilliard: 24 miles
Springfield: 18 miles
London: 14 miles
West Jefferson: 19 miles
Bellefontaine: 27 miles
Worthington: 32 miles
Urbana: 13 miles
About Our Farm
Mustang Valley Farm, LLC opened for horse boarding in 2004. We have twenty-six secluded acres of green pastures, lush woods and a meandering creek nestled in a beautiful rolling valley. Close to everything you need but far from the hustle and bustle. "Peaceful" is the word most people use to describe our farm.
Safety is the number one priority at Mustang Valley. Our pastures are fenced with Flex-Fence, Centaur HTP and Pro-Tek horse fencing. We also have plenty of three sided shelters for protection from inclement weather and the sun on those hot summer days.
We have Bar Bar A automatic waterers for fresh clean water year 'round. Our round pen is six feet tall with sand footing. Perfect for training and exercising. We have a 100' X 100' grassy area fenced off with a few obstacles to play with. We do not have a covered or indoor arena.
MVF is not a "show barn" per se, although, our ten-year-old daughter does take our horses in 4H to the Champaign County Fair in Urbana. Some clients find our farm perfect for their horse's retirement. Our farm is very laid back without the drama of some of the bigger horse barns. It's not fancy or frilly but we do have the basics. We love horses and are blessed to be able to share our farm with others.
Photo Gallery
Horse Boarding
We offer pasture boarding at Mustang Valley Farm, LLC. We aren't the least nor most expensive boarding facility in the area and we know you have choices. If you're looking for a small laid back farm to board and enjoy your horse at a price you can afford, you've found it at Mustang Valley Farm, LLC.
There's plenty of room to ride and our road is very quiet. We live right here at the farm and there's someone here nearly 24/7. We're convenient to town for snacks, lunch or dinner at one of the local restaurants and supplies from the local feed store. Tractor Supply is about 15 minutes away in Urbana and Rural King is about 25 minutes away in Springfield.
Our Pasture Board is $200.00 per month:
Natual herd situation
We feed our hay (small square bales) and your grain/feed (if desired)
Salt blocks provided
Three-sided shelters
Use of round pen and obstacles
Tack locker (you supply the lock if desired)
Stall Availability-We do have a stall available on a first come/first served basis for stall rest, medicating, temporary use. 
Safe and Secure 12 x 12 stall 

Client is responsible for all stall cleaning and bedding, feeding, watering and turnout.  Horses must be inside before dark. 
All horses at Mustang Valley Farm, LLC are to be on a regular vaccination and deworming schedule. Negative Coggins required. We cannot accommodate stallions. FOR THE SAFETY OF HORSES AND HUMANS, WE DO NOT ALLOW HIND SHOES. nO EXCEPTIONS.
Please note: For our protection and the protection of all of our clients we do require references and a credit/background check ($29.95 cash) for all boarders. Thank you!
Give us a call, text us (fastest response) or send us a message via Facebook..
Call: 937-834-6134 Text: 937-605-9974
Like us on Facebook

About that Google review:
In 2016 we purchased a pony for our daughter from a lady in Kentucky. The lady had videos of the pony being ridden and she looked like just what we were looking for. Once Diva, the pony, was settled in, we spent some time with her and discovered that she was very skittish. We worked and worked with her and she was still nervous. After several months of trying we decided Diva was not going to work out as a child's pony and we put her up for sale. We'd never sold an animal before and were picky whenever anyone showed an interest in her. We changed our minds about keeping her a few times. Having worked with her so much we were attached to her and wanted the best for her.
After a few months, a lady responded to the info-packed sale ad on Facebook and was very interested in Diva. She said she lived close and wanted to come and see her. A time was set up and she drove herself to our farm. She met Diva and we talked about Diva's issues. I showed her how nervous Diva was with even a hand on her back and how she could barely tolerate fly spray. In spite of that, the lady was sure she wanted to buy her so we agreed to haul Diva to her new home that day.
Upon arrival, we were impressed with the lady's farm. Her barn was neat and organized, the horses she already had appeared to be well cared for. We felt good about leaving Diva there. She even told our daughter that she could come visit Diva. There were high hopes all around.
Having sold Diva we didn't have a horse for our daughter to ride so we started looking. We found her a nice gelding at a rescue near Cincinnati and brought him home. Soon after, the lady who bought Diva wanted to bring her back. She claimed that we were dishonest in our description of Diva and took advantage of her. We told her we would not take her back since we had explained in the ad and in person all of Diva's issues and she understood those issues.That's when she started leaving us slanderous reviews on Facebook and Google. She even got her husband and another lady to leave us bad reviews. We had to hire an attorney to send her a cease and desist letter but she ignored it. We didn't pursue it further.
So, that's the story regarding the bad reviews of our farm. If you have any concerns, please, come out and visit the farm and our family in person. Rest assured, we're not "horse flippers" and no animals are being abused here by us or our gentled Mustangs and domestic horses.
(SOLD)$700 OBO! 6 YO 13hh Gaited Pony Mare $700 Mechanicsburg, OH (43044)
Make me an offer! Miss Diva is a gorgeous 6 year old gaited pony. She's chocolate with a nice full flaxen mane and tail. Not hard to catch, even without treats or food. Great feet and she was a perfect lady for the farrier! Likes being groomed and leads great! No kick, rear or bite. I was told her sire was a Rocky and her dam a pony. Diva's first owner had her started by the Amish at 2 years old. She was then used to pony that lady's grandkids. Her second owner had her at a trainer to work on her gait and has ridden her. She's shy at first but comes around. She's just too high-spirited for my totally novice daughter.
Her overall temperament...She is not mean or aggressive but seems to have not been exposed to much in her lifetime or maybe she's been exposed to the wrong things. She's not hard to catch if you approach her using some pressure and release. Once the halter and lead are on she leads like a dream. She doesn't run ahead, goes when you go and stops when you stop.
She was terrified of fly spray and I used clicker training to help her with that and she responded very well. Videos in the comments. She's never offered to bite or kick but can be pushy, especially with her left shoulder, when scared. We have her in the pasture with another mare and a gelding and she is the lead mare.
Based on how far she's come in the little time I've had to work with her I think she could really be a nice pony. She's gorgeous, learns fast and, apparently, can be ridden by someone with more experience than a novice 5 year old. If I had a pre-teen or teen daughter/son interested in working with her I'd keep her. I just don't have the time she needs and my daughter is too young to do it herself. Diva needs a devoted pre-teen/teenager or someone to spend time with her and make her all that she can be. No one here has ridden her. We did saddle her without too much ado and she had no problem with weight on the saddle. However, my husband started to throw his leg over her, she caught it out of her right eye and exploded. He didn't even get sat down in the saddle. Current negative Coggins pulled May 21st. She's so pretty! I wish we could keep her but I'm looking for something beginner safe and ready to go now for my daughter. Unfortunately, that's not Diva. Make me a reasonable offer! Thanks for looking! Video of previous owner riding her in the comments.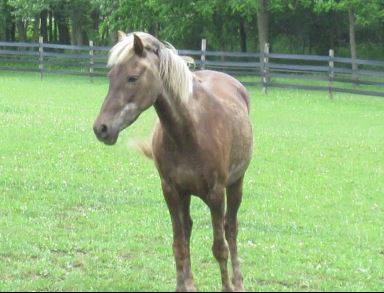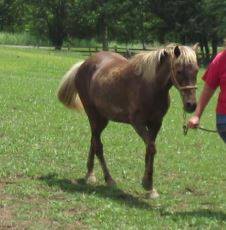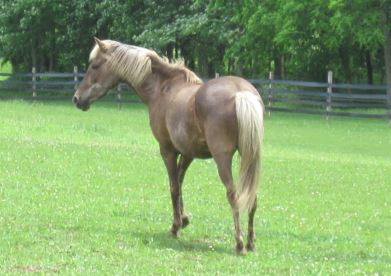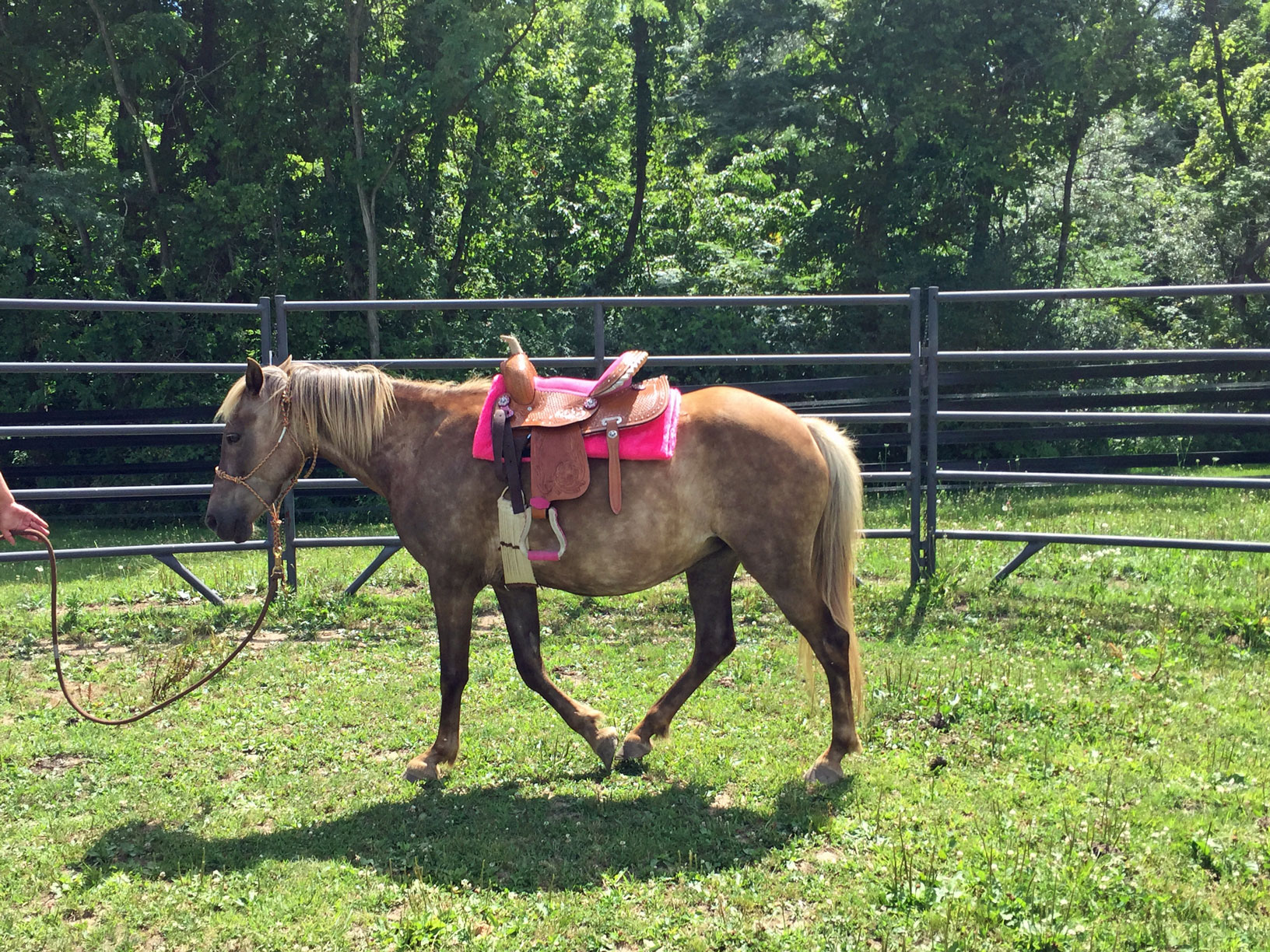 Some videos of Diva at her previous owner's and at our farm.